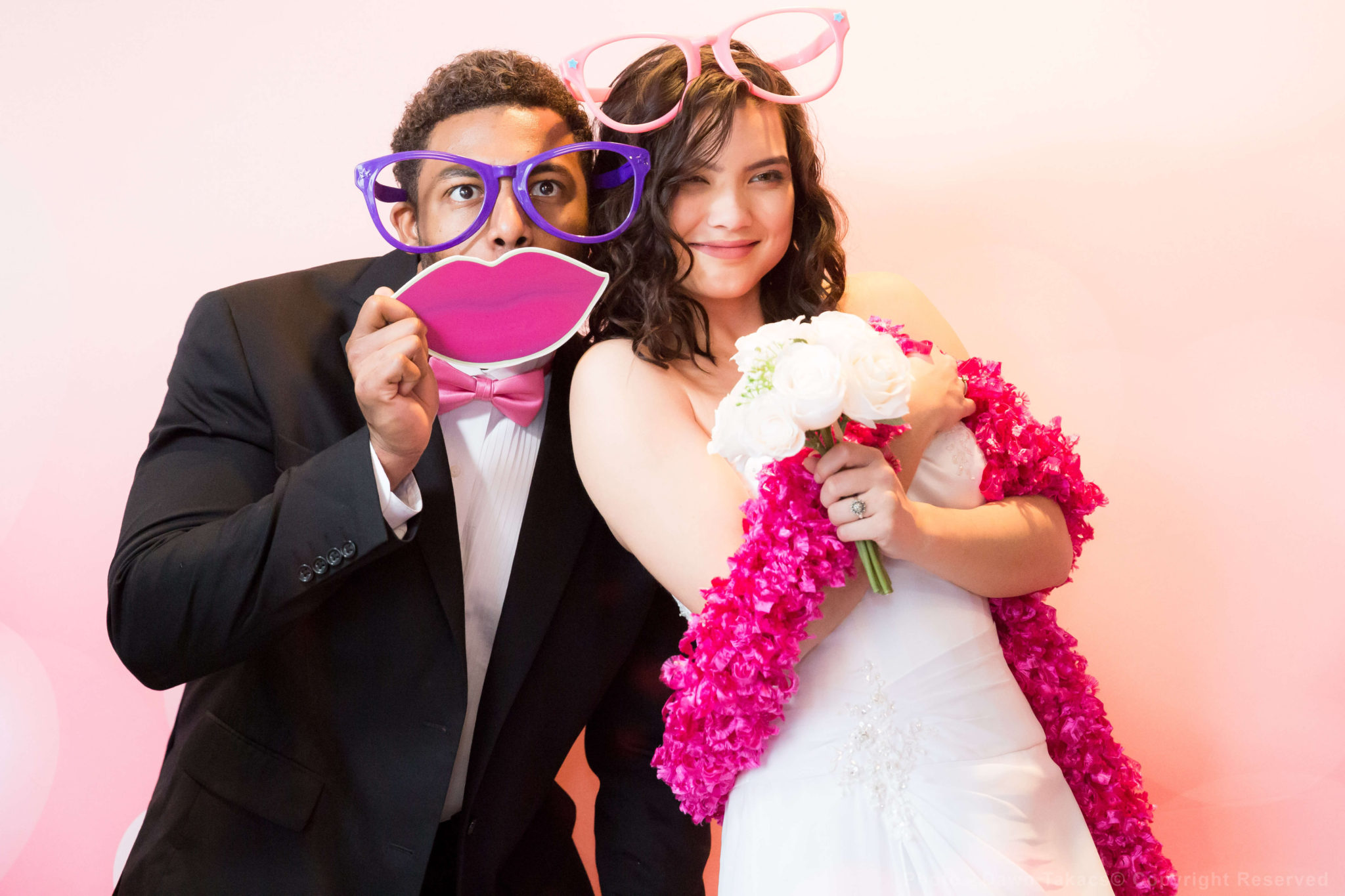 emme – the mirror booth
Our mirror booth, emme, is an acronym for an 'elite's magical mirror experience.' The mirror booth is a modern, tech-savvy, and super sleek interactive photo booth that will bewilder your guests! Behind the full-length mirror's touchscreen is a DSLR camera, with all the components needed to create portrait-quality photos. The camera connects with a laptop and proprietary software, which makes the magic of the mirror work. We add a personal touch of an animated workflow specifically for your special day, be it a wedding, anniversary, sweet 16, or birthday! Watch this video to learn more! 
How does the mirror booth work?
Emme photo booth is as easy as 1-2-3 for guests to use! Grab a friend and a prop, and get into position! Your photo booth attendant will start the mirror's workflow for you so you can focus on finding your inner diva! The mirror booth's animation will count down 3-2-1 until the camera's flash fires and the mirror booth snaps your photo! The magic is that you can see the image instantly on the mirror's screen and keep it or retake it whichever you choose! This feature ensures a picture-perfect photo for everyone!
Photo preview feature
People always comment how much they love their image in the preview mode on the mirror booth! We love to hear this because we know the magical formula is working! What's our magic formula? First, we add the 'beauty filter' to the workflow giving everyone that Holywood starlet glow! Secondly, we train our attendants to help you with the perfect props, positioning, and pose! Our magic formula makes your guests feel and look glamourous on event day and ensures everyone walks away with a fabulous photo! 
The signature feature 
This popular feature enables guests to embellish every image! The mirror booth signature feature has 150 writing shades of color and more than 150 emojis per event! This feature brings out the 'Andy Warhol' in all of us! Kids of all ages will engage with the mirror booth's touchscreen by adding digital props, emojis, doodles, and love notes in vibrant designs and colors. When finished, their art transfers to their final image, and they can share their masterpiece with the world in a few seconds!
The mirror booth is interactive. 
Emme photo booth becomes a digital playground when the guests learn how to use the signature feature. Our team carefully sets every event's workflow with emojis and digital props perfect for you and your special day! This service includes digital emojis for graduations, wedding receptions, sweet 16's, family reunions, holiday parties, birthdays, or just about any special occasion! These unique designs in your workflow make every emme- mirror booth experience exclusively yours. Customized emojis and digital props are included with our Elite package!
Snap, print, text, repeat 
Each of our packages offers your guests unlimited photo sessions and unlimited text delivery of their photos! Every guest will be able to text message themselves using the mirror's touchscreen, and before they hit done, the image they sent arrives on their phone! Our high-speed printer prints their photo image every 7 seconds! We've found that family and friends cherish these high-quality 4×6 or 6×4″ printed photos, which also make great party or wedding favors too!
Service includes 
Every booking includes pre-event logistics, delivery, set up, photo booth attendant, a premium pillowcase backdrop, fun props of hats, glasses, boas, and signs, plus digital props! We will have you verify all the requested artwork before prepping your workflow or ordering specialty items! You will receive all the digital images in a Google Drive folder by email within 48 hours of the event.
Hands down Emme Mirror made our day! From beginning to end Dawn went above and beyond. I couldn't imagine our day without the beautiful mirror and all the fun everyone had using it. At the start, Dawn was warm and helped up set up our custom-designed background for our pictures. She was so fast to respond to all requests and eager to help. She was super professional the day of the wedding and all of our guests had a blast using the props to take amazing pictures! 
Dawn even took a video of our wedding and made a really sweet snippet for us as a keepsake. I can't believe all of the things Dawn did to make the day even more special. The scrapbook of all our guests and online prints are irreplaceable. I would HIGHLY recommend to every bride to use the Emme photo booth. Thank you again, Dawn! Amazing service and absolutely worth it. #EMMEmirrorRocks #thanksDawn!