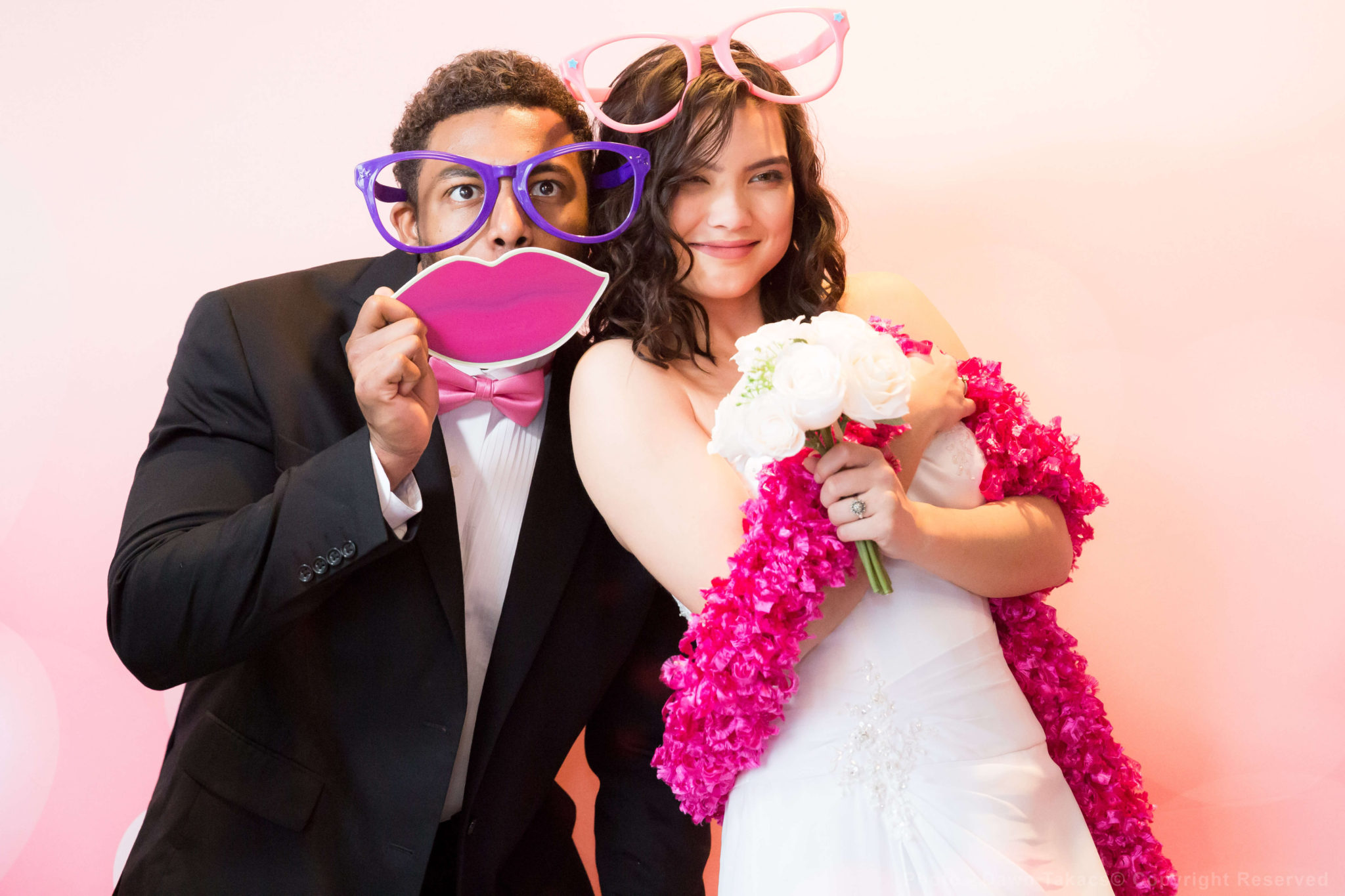 about emme – the mirror booth
Our mirror booth, emme is an acronym for an 'elite's magical mirror experience.' The mirror booth is modern, sleek, savvy and super cool. Behind the touchscreen mirror is a high-resolution Canon camera, with all the components needed for fantastic photos!  We realize that emme is easier to show in person, then explain. This inspired us to create a tutorial video of emme's basic features! Please watch and learn why emme, the mirror booth is so fabulous – and oh so perfect for your wedding reception!
grab a prop & strike a pose!
Emme photo booth is as easy as 1-2-3 to use! Simply grab a friend and a prop, and walk up and touch the mirror's start screen! Then just step back, and strike a pose! The mirror booth's animation will count down for you until the time your photo is taken! This way – you can work the mirror and get the perfect angle for your shot! If your photo frame has 3 images, the countdown animation will repeat for each image taken!
photo preview feature
The software allows guests to instantly see an enlarged preview of their photo image. If they don't like what they see, they can touch the purple X on the screen, and the workflow will automatically retake their photos. If they love their picture, they just need to touch the green checkmark to keep their photo. The software will then move on to the next feature. This is when the creative features begin!
pick your color and go!
With over 150 shades of color, guests will enjoy selecting their favorite and creating a signature, a statement, drawing, or just doodling! The signature feature of emme brings out everyone's inner artist! Their artwork is then printed on their photo frames, in the perfect place not to interfere with their fabulous photo! This feature enables guests to personalize every image!
signature features
The mirror's touchscreen creates a playground for guests to be creative and add their personal message to their photo frames. Don't worry if your artwork isn't perfect, the software offers 'undo' and 'clear' to erase anything that didn't work out as planned! This feature keeps your guests engaged in the fun for hours on end!
mirror booth has emojis!
Guests can open the dropdown menu and choose from over 150 emojis to add to their photo frames! Any emoji a guest adds will then be printed right onto their masterpiece, right next to their signature!  This feature can be customized to add emojis that are perfect for your special occasion, theme or celebration! We can even create emojis for the bride & groom specifically!
I love my printed photo!
Emme offers everyone unlimited high quality 4 x 6" printed photos. The sub-dye printer, will print one photo every 7 seconds. The printer is made for high volume output ensuring that everyone gets a copy of a great photo! Once guests order their printed photos, they now can email, or text a copy to themselves right away! This permits immediate sharing on all social media websites!
personalize your event!
Everything above is listed as our all-inclusive basic package for emme the mirror booth, and rates begin at $985.00 for 3 hours of service. However, we've got lots of fun extras, and tons of inspiration for you – please visit our photo frame, animation, and backdrops pages to learn more!
Hands down Emme Mirror made our day! From beginning to end Dawn went above and beyond. I couldn't imagine our day without the beautiful mirror and all the fun everyone had using it. At the start, Dawn was warm and helped up set up our custom designed background for our pictures. She was so fast to respond to all requests and eager to help. She was super professional the day of the wedding and all of our guests had a blast using the props to take amazing pictures! She even took some video of our wedding and made a really sweet snippet for us as a keepsake. I can't believe all of the things Dawn did to make the day even more special. The scrapbook of all our guests and online prints are irreplaceable. I would HIGHLY recommend to every bride to use Emme photo booth. Thank you again Dawn! Amazing service and absolutely worth it. #EMMEmirrorRocks #thanksDawn!